A Short History of South Fork Baptist Church by Ellen Norris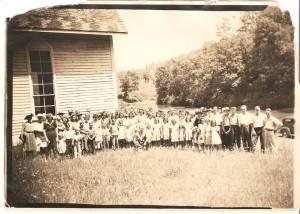 By the year 1790, in the rugged land of the North Carolina Mountains, there were enough people to establish the Baptist Church of Jesus Christ, just east of what is now Boone, as one of the first churches west of the Blue Ridge.  That church, known to us as Three Forks Baptist, became a busy church – doing "mission work" in their own back yard.  By the early 1800's, some of the congregation had ventured along the banks of the South Fork of New River.   Richard Greene, the church's first deacon, and "several others" visited the Todd community and held services in a clearing along the river. The fellowship was well received and in 1832 Joseph and Thomas Brown donated a little land to put up a log structure with split log pews – known to the community as Shiloh Meeting House.  The building was located about one quarter of a mile southeast of Todd alongside  the "Big Hill roadway."
On February 1, 1833, South Fork Baptist Church was constituted with eight charter members: Frederick and Polly Mikeal, Nathaniel Church, Phillip Church, Jesse Greer, Sr., Jesse Greer, Jr., Polly Greer, and Fanny McGuire.  William Swanson was appointed to "attend" the church the first year and it was stated that the church met "in love." Nathaniel Church served as the first clerk of the body.  Its first year recorded 35 members by "experience" and 12 by letter.
By 1838 the congregation had begun "to stand on it's own two feet" and rather than having someone appointed to attend the church from Three Forks Baptist Church, they elected their very first pastor Elder Isaiah Wilcoxen.  In 1892, the pastor's salary was reported to be $13.00 for the year.
On November 5, 1841, when the Watauga County churches decided to form a fellowship, South Fork became a charter member of the Three Forks Baptist Association.
By this time the membership had grown to 60, and they were able to make a $75.00 contribution to the association.  Considering the wage of the day, that was a fairly generous contribution.  Pastor Wilcoxen served as the associational moderator and Solomon Younce and Isham Calloway were the first delegates.
From 1865 to 1868, South Fork withdrew from the association due to The Civil War.  A representative  was sent to the July 1870 Association Meeting to present the church's inquiry as to whether or not it was "right to invite ministers into the pulpit that carried arms to kill men without a just cause?"
On April 2, 1869, it was agreed to build a new church "if funds could be had;" and in

January 1872 it was reported that "the house was covered."  That wooden frame structure  was torn down in 1950, and many of the materials were reused to construct the "new building" (which is now the Fellowship Hall), on land given by Mr. And Mrs. Walter Cook, in the area that used to be the "train turn-around", in "downtown Todd."